Colonel W.D. Eyre
From Navy.ca Wiki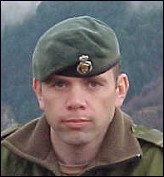 Major General W.D. Eyre, M.S.C., C.D. was born in Wadena, Saskatchewan, in 1966, and spent most of his youth on a nearby farm before completing high school in Medicine Hat, Alberta. He attended Royal Roads Military College in Victoria followed by Royal Military College in Kingston, graduating in 1988.
After completing infantry officer's training, LCol Eyre was posted to 2nd Battalion Princess Patricia's Canadian Light Infantry, where he served as a rifle platoon commander, including a peacekeeping tour in Cyprus, and as the reconnaissance platoon commander second-in-command.
Following employment as the Adjutant of The Royal Winnipeg Rifles, he returned to 2 PPCLI and spent two and a half years as the unit's reconnaissance platoon commander. In this position he deployed with 2 PPCLI to Croatia in 1993 as part of the United Nations Protection Force, and was in the Medak Pocket operation with the platoon.
After attending the Canadian Land Force Command and Staff College he was employed as a staff officer in Land Force Western Area Headquarters, in both the G1 branch and as Executive Assistant to the Commander. Following this posting and promotion to Major, he spent the next two years as a rifle company commander with 3rd Battalion PPCLI. This included a tour with NATO's Stabilization Force in Bosnia in 2000, where LCol Eyre was awarded the Chief of Defence Staff Commendation for the removal of a Bosnian-Croat Guards Brigade from his contentious area of responsibility. Following this tour, he commanded the Battalion's Administration Company.
In 2001, LCol Eyre was promoted and posted to Quantico, Virginia, as the Canadian student at the United States Marine Corps Command and Staff College. He was subsequently selected by the Marines to attend the USMC School of Advanced Warfighting for the following year, a course focused on developing operational planners. On return to Canada he was employed as a section head in the Directorate of Defence Analysis at National Defence Headquarters in Ottawa, where he led the team that developed the Canadian Forces' first Strategic Operating Concept. He became Commanding Officer of 3 PPCLI in June of 2004. After generating numerous Battalion elements for employment in Afghanistan, he deployed in February of 2007 to command the Canadian Operational Mentor and Liaison Team. In this position he mentored the Commander of 1-205 Brigade, Afghan National Army, through combat operations in Kandahar and Uruzgan Provinces, for which he was awarded the Meritorious Service Cross. (see citation below). After giving up command of 3 PPCLI in August of 2007, he was promoted to his current rank and became the J3 of Canadian Expeditionary Force Command in January of 2008.
In July 2009, Colonel Eyre assumed command of 2 Canadian Mechanized Brigade Group in Petawawa http://army.ca/wiki/index.php/2_CMBG. For the first time since the brigade's redesignation, its commander hails from the Princess Patricia's Canadian Light Infantry.
Among other military qualifications, Colonel Eyre is a graduate of the Canadian Advanced Reconnaissance Patrolman course and the US Army Special Forces Qualification Course. Academically, he has a bachelor's degree in Science from RMC, and a master's degree in Military Studies and a master's degree in Operational Studies, both from Marine Corps University. He is married to Jennifer (nee Thompson) from Ormstown, Quebec, and they have two children, Alexander (1998) and Breanna (2001).
Photo courtesy of DND, biography courtesy of http://www.cmp-cpm.forces.gc.ca/dsa-dns/sa-ns/ab/sobv-vbos-eng.asp?mAction=View&mBiographyID=794 with updates from Pembroke Observer article - 2 Jul 09
Citation for Meritorious Service Cross (Military Division): 26 March 2008 http://www.gg.ca/media/doc.asp?lang=e&DocID=5317 Colonel Wayne Donald Eyre, M.S.C., C.D. Ottawa, Ontario and Wadena, Saskatchewan
Colonel Eyre, then lieutenant-colonel, distinguished himself by his outstanding commitment to the success of the mission while deployed to Afghanistan as the commanding officer of the Operational Mentor and Liaison Team, from March to August 2007. His expert knowledge of counter-insurgency strategy and tactics ensured Afghan successes against Taliban operations, bringing stability to the volatile region and strengthening good governance within Kandahar Province.
Appointment as 2 CMBG - Eyre takes on a new challenge http://www.thedailyobserver.ca/ArticleDisplay.aspx?e=1637802
<< Excerpt from article on Pembroke Observer website posted by Sean Chase on 2 Jul 09
CFB PETAWAWA - The new man in charge of 2 Canadian Mechanized Brigade Group is embarking to some uncharted territory. For the first time since the brigade's redesignation, its commander hails from the Princess Patricia's Canadian Light Infantry, or the PPCLI as they're commonly known, a regiment based out of western Canada. In a change of command ceremony in front of 500 troops Tuesday, Col. Wayne Eyre took over the brigade from Col. Dean Milner. After joining Brig.-Gen. J. C. Collin, commander of Land Force Central Area, and his predecessor in the signing of the change of command scrolls, Col. Eyre addressed his soldiers for the first time, saying he was pleasantly surprised to learn of his appointment to the brigade. This is his first posting to Petawawa. "My family and I are very much looking forward to the opportunity presented by this posting and by this community," said Col. Eyre, a former commanding officer of 3 PPCLI . Although he's never been with 2CMBG, the incoming commander noted he has worked with Petawawa soldiers in the past and has followed the brigade's progress on recent missions from his post at Canadian Expeditionary Force Command. "Your operational record speaks for itself. You are tough, keen, dedicated and professional, steadfast in the face of the enemy. You don't shy away from a fight and you have seen much success in battle," he said. "I look forward to continuing this practice with you." End of Excerpt>>