The Royal Montreal Regiment
From Navy.ca Wiki
The Royal Montreal Regiment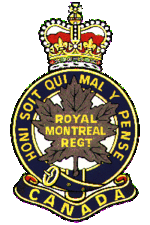 Regimental HQ:Westmount Qc
Colonel in Chief:
Honoraries: HCol P Trent, HLCol HF Hall, CD
Regimental Birthday: Created in August 1914
Current Role: Reserve infantry battalion.
Motto
Honi soit qui mal y pense
Regimental march
Ça Ira
Allied Regiment
The Prince of Wales Own Regiment of Yorkshire
Perpetuates
14th Battalion, CEF and 58th Westmount Rifles
Battle Honors (25)
All the honours that are in all caps are emblazoned on the colours of the regiment.
World War I
YPRES - 1915, 1917
ST-JULIEN
MOUNT SORREL
Pozieres
Ancre Heights
VIMY - 1917
SCARPE - 1917, 1918
DRECOURT-QUEANT
CANAL du NORD
France & Flanders - 1915-1918
RAVENSTAFEL FESTUBERT – 1915
SOMME – 1916
Thiepval
Arras - 1917, 1918
Arlex
Hill 70
AMIENS
Hindenburg Line
Pursuit to Mons
World War II
THE SHELDT
N.W. EUROPE - 1944-1945
CALAIS – 1944
LEOPOLD CANAL

Source of Info
http://www.royalmontrealregiment.com and from memory.