Canadian Military Engineers
From Navy.ca Wiki
Canadian Military Engineers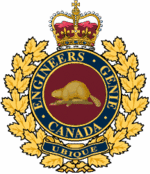 Predecessor: The Corps of Royal Canadian Engineers
Branch Birthday: 29 April (1936)
Motto: Ubique (Latin: Everywhere)
The Canadian Military Engineers is the name given to the Engineering Branch of the Canadian Forces. The CME includes Combat Engineers, Construction Engineers, Fire Fighters, and Mapping & Charting Engineers.
DEFINITION
Military Engineering is that engineer activity undertaken, regardless of component or service, to shape the physical operating environment.' Military Engineering incorporates support to manoeuvre and to the force as a whole, including military engineering functions such as engineer support to Force Protection, Counter - Improvised Explosive Devices, Environmental Protection, Engineer Intelligence and Military Search. Military Engineering does not encompass the activities undertaken by those 'engineers' who maintain, repair and operate vehicles, vessels, aircraft, weapon systems and equipment. (NATO publication MC 0560 "MILITARY COMMITTEE POLICY FOR MILITARY ENGINEERING" 01 Apr 2008.)
Role
The mission of the Canadian Military Engineers is to contribute to the survival, mobility, and combat effectiveness of the Canadian Forces. Roles are to conduct combat operations, support the Canadian Forces in war and peace, support national development, provide assistance to civil authorities, and support international aid programs. Engineers serve wherever the need arises, proud of the motto Ubique (Everywhere). Few other organizations, civilian or military, can claim to have contributed as much to the defence and development of this nation as have the Canadian Military Engineers. (CF publication A-JS-007-003/JD-001 "Customs and Traditions of the CME")
History of the CME
In the most modern sense Canada first had its own military engineers from 1903 and the creation of the Canadian Engineer Corps. Several name changes occurred in the 20th Century, and the Canadian Military Engineers (CME) were so designated in 1967 during the process of Unification of the three armed services in Canada into an integrated military, which became official on 1 February 1968. Canadian military engineers actually date back to before Confederation, and so the Branch Birthday is celebrated on the anniversary of the uniting of both the regular engineers and the Militia engineers under the same title and cap badge in 1936.
Parts of the CME